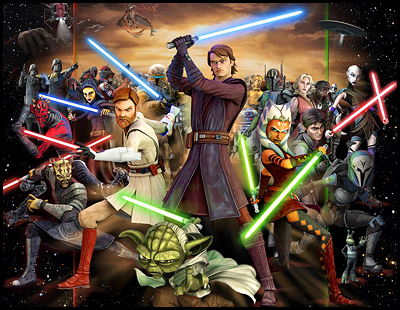 With Star Wars: The Clone Wars and the new "Lost Missions" episodes hitting Netflix this week, and because a huge number of the people who follow my art are Clone Wars fans, I thought it'd be fun to list my 6 favorite episodes from each season, listed in the order they aired.
It was tough to narrow it down to just 6 faves. There are a lot of episodes that I enjoyed that aren't listed below. Yes, I admit that there are some less-than-awesome episodes in each season too (*coughJarJar* *coughPadmePolitics*), but, man, when this show gets it right, they really get it right.
If you're a person who has NEVER watched the Clone Wars and you want to spend less than an hour seeing what all the fuss is about, I'd recommend Season 2's "Landing at Point Rain" and then the episode directly following it, "Weapons Factory." In my opinion, those two episodes are when the show really started getting into its groove, and it's a great jumping-on point, so new viewers wouldn't feel too lost. Just my opinion, as always. :) Enjoy!
SEASON 1: FAVORITE EPISODES
Ambush
Rookies
Duel of the Droids
Cloak of Darkness
Lair of Grievous
Trespass

SEASON 2: FAVORITE EPISODES
Children of the Force
Landing at Point Rain
Weapons Factory
Lightsaber Lost
Bounty Hunters
Lethal Trackdown

SEASON 3: FAVORITE EPISODES
Assassin
Hunt for Ziro
Overlords
Altar of Mortis
Citadel Rescue
Wookiee Hunt

SEASON 4: FAVORITE EPISODES
Carnage of Krell
Slaves of the Republic
Escape from Kadavo
A Friend in Need
Bounty
Revenge

SEASON 5: FAVORITE EPISODES
A Necessary Bond
Shades of Reason
The Lawless
The Jedi Who Knew Too Much
To Catch a Jedi
The Wrong Jedi

(Clone Wars collage found at denisogloblin.deviantart.com.)