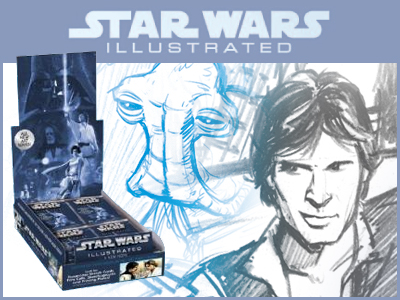 I'm happy to finally announce what project I've been working on: STAR WARS ILLUSTRATED: A New Hope, an all-new Topps trading card set that brings the classic radio drama to life!
I'm creating 18 pieces of artwork for a basic insert set entitled "One Year Earlier" – each card gives an illustrated glimpse into the pre-ANH lives of Luke, Leia, Han, Vader, Obi-Wan, Wedge, and many others.
Needless to say, I'm excited and honored to be a part of this set. It's going to be a lot of fun for original trilogy Star Wars fans of all ages.
STAR WARS ILLUSTRATED: A New Hope is scheduled for a November 2013 release (you can find more info over here) - and I'm sure I'll have some sneak peeks to share over the coming months. :)