"The D is silent..."
My 2013 sketchbook is now available to order! "Djorah Unchained" is the same magazine size (8.5"x11"), perfect-bound, 40-page format as the last few years' editions, with color covers and b&w interiors. These books will begin shipping in AUGUST 2013 (I have a few pieces that I'm finishing up this month that I want to include in the book). So if you want to be among the first to receive this year's sketchbook, place your order.
To order: You can order by credit card by clicking right here, or you can order via Paypal.
Send Paypal payments to grantgoboom@gmail.com and write "2013 sketchbook" in the subject line. Be sure your snail mail address is included. The books are $20 each plus $5 shipping if you're in the U.S., $10 shipping if you're in Canada, or $15 shipping if you're located anywhere else.
If you would like a custom head sketch of your favorite character on the first page of the sketchbook, add an extra $20 to your order and let me know which character you'd like!
My previous three sketchbooks are available as well -- they're $20 each, same as the new one (with head sketch options for an extra $20 each). Just be sure to specify which books you're interested in when placing your order.
2010 Sketchbook: Inglourious Lizerds
2011 Sketchbook: Thrawn Legacy
2012 Sketchbook: Khaleesi A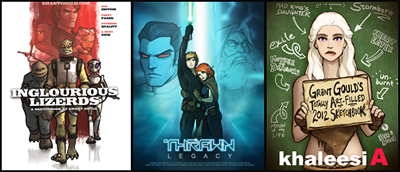 Thanks, everyone! If you have any questions, feel free to contact me: grantgoboom@gmail.com