My 2014 sketchbook is now available to order! "Dovahkiin Dead" is magazine size (8.5"x11"), perfect-bound, 40-page format, same as the last few years' editions, with color covers and b&w interiors. December orders will ship in January, Jan. orders will ship in Feb., and so on. So if you want to be among the first to receive this new book, order now!
To order: You can order by credit card by clicking right here, or you can order via Paypal.
Send Paypal payments to grantgoboom@gmail.com and write "2014 sketchbook" in the subject line. Be sure your snail mail address is included. The books are $20 each plus $5 shipping if you're in the U.S., $10 shipping if you're in Canada, or $15 shipping if you're located anywhere else.
Adding a sketch: If you would like a custom inked/marker-colored head sketch of your favorite character on the first page of the book, add an extra $20 to your order and let me know which character you'd like. If you're purchasing via credit card, then select quantity "2" when ordering and let me know that the extra $20 is for the head sketch.
______________________________
My 2013 sketchbook is still available as well -- $20 each, w/ $20 head sketch option, same as the new one. If you're interested, here's the link.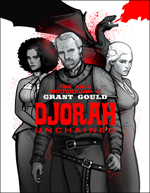 Thanks, everyone! If you have any questions, feel free to contact me: grantgoboom@gmail.com